Asian Pears For The Backyard Orchard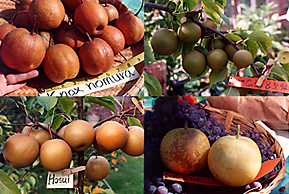 Asian pears are known by many names, including Japanese pear, Korean pear, and apple pear. They are sweet and juicy, taste like a pear because they are a pear, but are hard and crunchy like an apple. They store well, and will last for several months when refrigerated.
Asian pears trees are a great choice for planting in your city or suburban yard. They are amazingly easy to grow; much easier than apples. They have many fewer disease and pest problems than apples which minimizes the need to spray.

The varieties I sell require as little care as possible, which minimizes chemical spraying. It's fun picking superior tasting pears from your yard, especially when you see how expensive they are in the grocery store.
I have test grown over 20 different varieties of Asian trees, and have selected the best of the best to propagate and sell. The fruit must have good flavor, the trees must be easy to grow, hardy, and have few disease problems. All our trees are grown at our North West Illinois orchard, near Wisconsin, where winters reached -50 degrees in 2019. You therefore know they can survive a Chicago winter.

Mature trees can reach 18 feet in height, but can be maintained at under 12 feet with prunning. Expect your first pears in 2 to 3 years. Choose two varieties for proper pollination.

Asian Pear Varieties for 2015
3-4 foot bareroot trees when available are starting at ............... $50 each



Variety
Ripens
Description
Atago
September
Yali
late September
20th Century

*

September
Chojuro

*

mid-August
Korean Giant

*

late September
Shin Li

*

September

Purchasing Details
Please call me at 847-712-9175 by phone or email, to check availability and place your order, and confirm a pick up time and location. I do not ship. My plants are available by pickup only. This can be done at my Skokie home, or by special arrangement at the Farmer's Market, or my orchard.
For payment, I only accept cash or credit card..

Grow Several Pear Varieties On One Tree
No room to plant more trees in your yard, contact me in spring to add more varieties by "grafting"on to your existing tree.